Galfer's roots lie in the same product it is still known for today: brake pads. Began in 1946 as a brake pad supplier in Spain, Galfer has grown into an international powerhouse for quality powersport braking parts and accessories. Their primary product line includes:
Brake pads, Brake rotors,Brake lines and cables
While all brake pads are still manufactured in Barcelona, Galfer has had a presence in the United States for over 20 years – all thanks to one of the founder's sons, Giorgio Milesi, who immigrated to California in 1992. This has led to an expansive boost to quality brake parts available in the Americas and other parts of the world. Now, major operations take place right in the USA, including certain strategic decisions and production of many Galfer rotors.
Walk through the paddock of any current street, off-road or supercross event, and you'll find Galfer being used by most of the top racers. Because of Galfer's consistent and demanding high quality, they are truly the racer's choice in brake pads, rotors and lines. Racers keep pushing their R&D - and that results in more end-user benefits as well.
The ability to brake effectively isn't merely a convenience – it's a necessity. That's why every Galfer product is designed with both precision and performance in mind. Whether it's a set of carbon brake pads for your ATV or a laser-cut brake rotor for your street motorcycle, Galfer has a product for you. Your brakes will feel grippy, and you will feel in control of your riding experience.
Choose the best category in the list provided here, and you'll be able to see exactly what Galfer can offer you and your ride.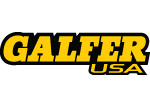 Galfer Dirt Bike Accessories: Brakes
Galfer Dirt Bike Accessories: Handlebar-Control
Galfer Dirt Bike Accessories: Brake Lines and Cables
Latest Galfer Reviews – You could win up to
$500

for reviewing products!