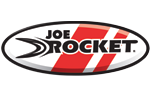 Since the early '90s, Joe Rocket has been pushing the boundaries of the motorcycle industry, creating slim, sleek, and sturdy riding gear that offers on the bike performance without compromising off the bike style.
All that value packed into one affordable package - it's no wonder why their gear took off. Today, Joe Rocket is all about that same balance, just in a variety of options. Their pants, jackets, and rain gear all come in a variety of colors and styles, as well as fits for both men and women. One of the more inclusive manufacturers, Joe Rocket makes sure women are well represented through all the lines of gear they manufacturer.
Better still, these options of stylish and high performing gear all feature Joe Rocket proprietary tech like ROCK TEX for abrasion resistance, SURE FIT for their system of adjustable straps and fasteners, and FULL FLEX for a strategically tailored system of expansion panels and stretch materials. For the best style, fit, and value, you can't go wrong with Joe Rocket.