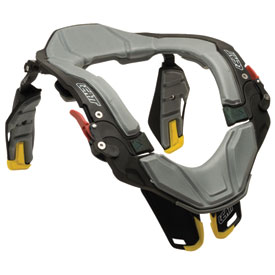 Leatt Brace STX Road Neck Brace Large/X-Large Black/Grey
Part# 1332780001

"Customer service is priority #1 at Rocky Mountain ATV/MC. We value our customers and strive to be the best shopping experience- when you buy from us, you are buying lifetime service."

-Dan Thomas, CEO and Founder

Returns

We take pride in offering no hassle returns. In the event of a return, please call, email or chat with us to receive a solution to the problem. For apparel that doesn't fit quite right, Click here to see our Fit Guaranteed Program.

Warranties

We will stand behind all products we sell with regards to manufacturing defects in workmanship and material. Most products are limited to the manufacturer's warranty. However, we will do everything in our power to take care of the problem.

Have questions?
Leatt® STX Road Neck Brace, the all-new neck brace for street motorcycle riders, forms an essential part of your personal safety system. It functions in conjunction with your helmet and is designed to help protect your neck from extreme movements and overall neck loading in the event of an accident. The Leatt® STX Road is engineered with Leatt®'s proven Alternative Load Path Technology™ (ALPT™) and features seamless integration of function, movement and looks for street motorcycle riding, on the road or at the track.
For all types of street riders.
Works with most full-face helmets, including popular flip-up helmets.
Fits most types of riding jackets and leather suits, with or without aero humps. Jacket Zipper Relief area.
Designed for optimal riding position.
Fiberglass reinforced polyamide resin construction.
Unique foldable Scapula Wing designed to accommodate an aero hump or back protector and provide easy storage.
No-tool scapula wing adjustment.
Collarbone Cut-out.
Red opening hinges for easy access and identification by paramedic staff.
Adjustable body strap system for a secure fit.
Sizing Recommendations
Large/X-Large is recommended for riders that range in height from 5'1" - 6'3" and have a chest circumference that ranges from 35.5" - 43.5".
Note: Rider should be measured with a back protector and jacket on.