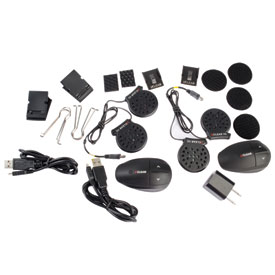 UCLEAR® HBC200 HD Helmet Communication System
Our price:
$249.95

–

$449.95
MSRP: $269.95 - $499.95 - You save up to $50.00 (10% off)
View Product Details
"Customer service is priority #1 at Rocky Mountain ATV/MC. We value our customers and strive to be the best shopping experience- when you buy from us, you are buying lifetime service."

-Dan Thomas, CEO and Founder

Returns

We take pride in offering no hassle returns. In the event of a return, please call, email or chat with us to receive a solution to the problem. For apparel that doesn't fit quite right, Click here to see our Fit Guaranteed Program.

Warranties

We will stand behind all products we sell with regards to manufacturing defects in workmanship and material. Most products are limited to the manufacturer's warranty. However, we will do everything in our power to take care of the problem.

Have questions?
The HBC200 HD is UCLEAR's custom packaged system for the half helmet rider. The package includes a set of Long Earbuds and Pro Microphones, allowing riders to easily outfit 2 helmets, including a half helmet, with great sound quality, connectivity and no boom microphone. The HBC200 HD has patented ABF® Technology and a groundbreaking, full duplex intercom system designed to expand the reach, range, and quality of group communications for an unlimited number of riders by up to 700 meters (0.43 miles) between each HBC200 HD unit. Voice-activated pick up allows hands-free operation. The HBC200 HD is water and temperature resistant so you can ride in any weather. Easily installs into most helmets. Free firmware updates keep your units up to date with the latest features. With the latest firmware update, your UCLEAR system is now compatible with other brand Bluetooth® helmet communication systems and offers multi-point connectivity and private intercom!
Boomless microphone (industry first).
Connect to your music, calls, & GPS (Bluetooth devices).
Super Group Intercom (Connect an unlimited number of riders).
Multi-Hop Communication Extender (up to 700 meters between units).
Voice command for hands-free call pickup.
Hi-Fidelity stereo audio (AVRCP, A2DP).
Patented ABF/DSP technology isolates your voice and eliminates all background noise.
Firmware upgradable.
Easy installation on any helmet.
Two-year limited manufacturer's warranty.
Compatible with the HBC100+ and HBC200 series units.

Kit Includes:
HBC200HD unit.
Pro speakers/microphones.
Long earbuds.
AC/USB charger and USB charging cable.
Metal Mounting Bracket.
Clip bracket and anti-slip rubber patch.
Velcro for speaker attachment.
Upgradeable firmware.
*Dual kit includes quantity 2 of all items listed above.