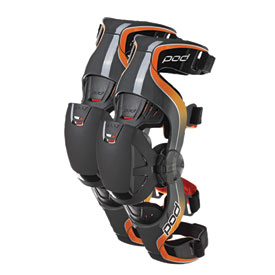 Pod MX K1 Youth Knee Brace Pair

"Customer service is priority #1 at Rocky Mountain ATV/MC. We value our customers and strive to be the best shopping experience- when you buy from us, you are buying lifetime service."

-Dan Thomas, CEO and Founder

Returns

We take pride in offering no hassle returns. In the event of a return, please call, email or chat with us to receive a solution to the problem. For apparel that doesn't fit quite right, Click here to see our Fit Guaranteed Program.

Warranties

We will stand behind all products we sell with regards to manufacturing defects in workmanship and material. Most products are limited to the manufacturer's warranty. However, we will do everything in our power to take care of the problem.

Have questions?
Youth knee protection is of the utmost importance in dynamic action sports like motocross, supercross and off-road racing. The Pod MX K1 Knee Brace was designed to support the knee joint and help reduce ligament injuries. The Pod MX K1 is a lightweight, low profile and secure fitting motocross knee brace that uses proprietary Synthetic Ligaments to reinforce the knee's complex range of motion. This Human Motion technology moves so effortlessly, you will forget you are wearing a brace. Designed specifically for youth riders, the Pod K1 Youth Knee Brace features simple modular components which accommodate growth to ensure the brace will provide years of support.
Deluxe moisture wicking frame liners and strap pads keep you cool and comfortable.
Lightweight, low profile frame design combined with four secure straps ensures a snug fit and superior feel for the bike.
Zero pressure points ensure you will ride all day in comfort and in control.
Adjustable extension stops are easily inserted to provide progressive control from 0 to 25 degrees.
Synthetic Ligaments help to replicate natural human motion and are easily replaced by the end user after exposure to significant forces or extended use.
A secure fit is essential to knee brace functionality, comfort and control.
A common frame with interchangeable cuffs and padding allow you to change the brace length and padding thickness to provide years of support.
Knee Width Measurement Sizing Guide:
Youth Medium.............. 10.8" - 11.6" (27.5 - 29.5 cm)
Youth Large............... 11.6" - 12.6" (29.5 - 32 cm)
(Note: Knee circumference measurement should be taken directly under the knee cap using a soft tape measure or string. Take measurements in a weight bearing position at full extension).