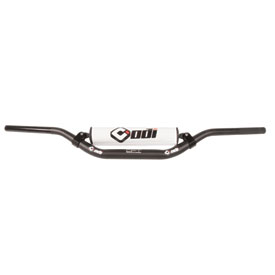 Odi 1 1/8" CFT Handlebars CR High Bend Black
Part# 1425980006
"Customer service is priority #1 at Rocky Mountain ATV/MC. We value our customers and strive to be the best shopping experience- when you buy from us, you are buying lifetime service."

-Dan Thomas, CEO and Founder

Returns

We take pride in offering no hassle returns. In the event of a return, please call, email or chat with us to receive a solution to the problem. For apparel that doesn't fit quite right, Click here to see our Fit Guaranteed Program.

Warranties

We will stand behind all products we sell with regards to manufacturing defects in workmanship and material. Most products are limited to the manufacturer's warranty. However, we will do everything in our power to take care of the problem.

Have questions?
Details
It's what they do. And once ODI started looking at it, it didn't take long to realize that there was a need for something better in the handlebar world. Starting with a quality "oversized" 6061 aluminum handlebar platform they added the Patent Pending Controlled Flex Technology crossbar to offer a controlled flex and reduce the vibration and rigidity felt with other bars. How does it work? Grab a set for yourself and find out!
Controlled Flex Technology crossbar.
Nylon shimmed cross bar mounts allow for a perfect fit on the 6061 aluminum tapered bar to prevent unintended slipping and loosening of the cross bar.
The patent pending CFT crossbar uses an elastomeric shock design to allow the cross bar to telescope which enables the handlebars to flex while at the same time controlling the speed of the flex and helping to reduce vibration and provide a more constant feel of the front end of the bike.
Low profile knurling keeps your grip diameter consistent with manufacturer intentions, providing a more comfortable feel.
Includes cross bar pad.