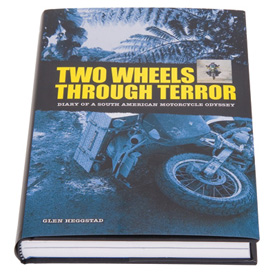 Glen Heggstad's Two Wheels Through Terror
Part# 1195320001
"Customer service is priority #1 at Rocky Mountain ATV/MC. We value our customers and strive to be the best shopping experience- when you buy from us, you are buying lifetime service."

-Dan Thomas, CEO and Founder

Returns

We take pride in offering no hassle returns. In the event of a return, please call, email or chat with us to receive a solution to the problem. For apparel that doesn't fit quite right, Click here to see our Fit Guaranteed Program.

Warranties

We will stand behind all products we sell with regards to manufacturing defects in workmanship and material. Most products are limited to the manufacturer's warranty. However, we will do everything in our power to take care of the problem.

Have questions?
Details
"Heggstad has documented an amazing account of adventure travel around the South American continent, Get this book and read the adventure—it's an amazing story of survival." --Dual Sport News
Glen Heggstad is an adventure motorcyclist who seeks out and rides the most rugged places on the planet. He has been a Hell's Angel and a martial arts competitor, but no amount of experience was able to prepare him for what he became while riding to the southern tip of South America: a prisoner. This book is a shocking travelogue of Heggstad's journey, his capture by Colombia's rebel ELN army, and the eventual realization of a dream. Heggstad is ripped from his motorcycle, robbed of everything, and forced to march through strange jungles with assault rifles in his back. He is fed only small amounts of rice and water and is forced to carry heavy equipment. Even with all the hand-to-hand and sophisticated combat training, it was his shrewd thinking, precise planning, and a "do-or-die" last act of desperation that eventually secured his freedom.
Hardbound 276 pp. color illustrations.