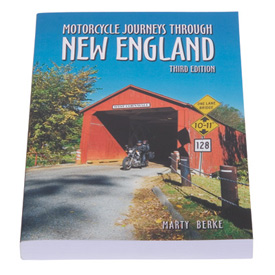 Motorcycle Journeys Through New England, 4th Edition
Part# 1195330001
"Customer service is priority #1 at Rocky Mountain ATV/MC. We value our customers and strive to be the best shopping experience- when you buy from us, you are buying lifetime service."

-Dan Thomas, CEO and Founder

Returns

We take pride in offering no hassle returns. In the event of a return, please call, email or chat with us to receive a solution to the problem. For apparel that doesn't fit quite right, Click here to see our Fit Guaranteed Program.

Warranties

We will stand behind all products we sell with regards to manufacturing defects in workmanship and material. Most products are limited to the manufacturer's warranty. However, we will do everything in our power to take care of the problem.

Have questions?
Details
Great travel guides written by motorcyclists, for motorcyclists.
Each book contains numerous day trips around a given area. Each trip is described in detail with a map and specific route directions, recommendations for rider-friendly restaurants, diners, hotels, interesting places to visit, and often a listing of local motorcycle dealerships in the event you have a mechanical trouble on the road. Guidebooks for places outside the U.S. contain practical information on border crossings, insurance papers, money, gasoline, navigation, medical care, and motorcycle repair.
New England has everything a motorcyclist could want: twisty, historic roads; wild and scenic vistas; and interesting, quirky, accessible destinations worthy of stretching your legs. Vermont native and moto-insider Ken Aiken thoroughly covers Vermont, New Hampshire, Maine, Massachusetts, Connecticut, and Rhode Island in 28 routes that catalog the very best they have to offer, from shoreline to summit.
The pace of touring on two wheels is especially well suited to appreciating and pondering the forces—both natural and man-made—that continue to shape New England. Many of the most popular riding roads evolved from native and pre-colonial trade routes, which may have begun as game trails. Routes rise, fall, and sweep with contours that follow a rugged terrain initially traversed during a slower time. Few books before this one have offered up as many regional gems to touring riders. In addition, Aiken has tapped into his lifelong interests in history, architecture, geology, and industry to offer up fascinating tidbits of local detail, adding color and context to the extrasensory movie that will be playing on your visor.
Motorcycle Journeys Through New England features full-color maps with turn-by-turn directions for each suggested route, along with updated information for motorcycle-friendly services, memorable lodging and dining, and points of interest that will take you off the beaten path.