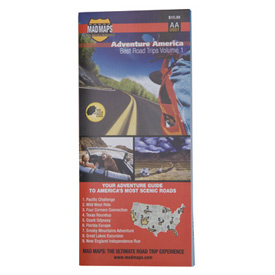 Madmaps Adventure America Series - U.S Road Trips
Part# 1196810001
"Customer service is priority #1 at Rocky Mountain ATV/MC. We value our customers and strive to be the best shopping experience- when you buy from us, you are buying lifetime service."

-Dan Thomas, CEO and Founder

Returns

We take pride in offering no hassle returns. In the event of a return, please call, email or chat with us to receive a solution to the problem. For apparel that doesn't fit quite right, Click here to see our Fit Guaranteed Program.

Warranties

We will stand behind all products we sell with regards to manufacturing defects in workmanship and material. Most products are limited to the manufacturer's warranty. However, we will do everything in our power to take care of the problem.

Have questions?
Details
No more hurrying from point A to point B, ride the scenic route with Madmaps. Madmaps is all about finding the most unusual and unique attractions making your ride an adventure. See things from rock "n" roll roadhouses to rubber band museums. Madmaps have done all the scouting out for you making it so you can enjoy the adventure, have fun getting there and never run out of places to explore. Madmaps is your guide for adventure fun.
Adventure America features the unforgettable back roads and dramatic landscapes of the West Coast, Four Corners, Texas Hill Country, Ozarks, Black Hills, Northern Great Lakes, Smokey Mountains, Florida, and New England.
Explore lush forests and snowcapped peaks as you trace the cliffs of the Pacific Coast. *Experience the canyons, rock formations and deserted highways of the Southwest or discover the granite spires and rugged terrain of the Black Hills and Wyoming. Head east to the legendary Smoky Mountains and Cumberland Gap or venture up to the northeast for a journey through America's birthplace.
These are more than just road trips, they're 1 to 2 weeklong journeys that help define the American experience. They're a way of recapturing our inherent love of the open road and of rediscovering a nation. And with every winding turn, you'll gain a deeper understanding that in the end it's not the destination that counts - it's the journey.