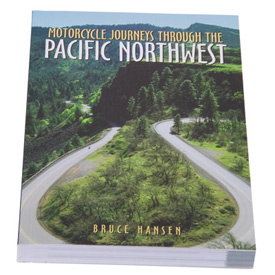 Motorcycle Journeys Through The Pacific Northwest, 2nd Edition
Part# 1349420001
"Customer service is priority #1 at Rocky Mountain ATV/MC. We value our customers and strive to be the best shopping experience- when you buy from us, you are buying lifetime service."

-Dan Thomas, CEO and Founder

Returns

We take pride in offering no hassle returns. In the event of a return, please call, email or chat with us to receive a solution to the problem. For apparel that doesn't fit quite right, Click here to see our Fit Guaranteed Program.

Warranties

We will stand behind all products we sell with regards to manufacturing defects in workmanship and material. Most products are limited to the manufacturer's warranty. However, we will do everything in our power to take care of the problem.

Have questions?
Details
Great travel guides written by motorcyclists, for motorcyclists.
Each book contains numerous day trips around a given area. Each trip is described in detail with a map and specific route directions, recommendations for rider-friendly restaurants, diners, hotels, interesting places to visit, and often a listing of local motorcycle dealerships in the event you have a mechanical trouble on the road. Guidebooks for places outside the U.S. contain practical information on border crossings, insurance papers, money, gasoline, navigation, medical care, and motorcycle repair.
Both visitors to the region and lifetime locals will enjoy and learn from the exciting trips that Hansen has planned and perfected. This book, designed from top to bottom for motorcyclists, includes: relief maps for each trip, section, and chapter; photocopy-able spreads with detailed maps and directions for easy placement in a tankbag map window; more than 30 great trips that span 5 states and parts of Canada and include the twistiest, most scenic roads the Northwest has to offer; and the best places to eat, sleep, and pitch your tent.
Hansen guides motorcyclists through the areas around Seattle and Portland, up and down the coasts of Washington and Oregon and northern California; around the volcanos of Mt. St. Helens, Mt. Hood, and Mt. Rainier; across the desert of Oregon; out to the San Juan Islands; and even into parts of British Columbia. Riders will see everything from the most interesting places in the region's history, to the the hills, inlets, islands, and valleys that make the American Northwest a favorite among motorcycle enthusiasts.