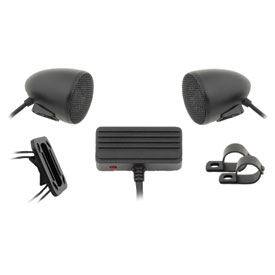 Cycle Sounds Amplified 2" Speaker System - ATV/UTV
Part# 1293670001
"Customer service is priority #1 at Rocky Mountain ATV/MC. We value our customers and strive to be the best shopping experience- when you buy from us, you are buying lifetime service."

-Dan Thomas, CEO and Founder

Returns

We take pride in offering no hassle returns. In the event of a return, please call, email or chat with us to receive a solution to the problem. For apparel that doesn't fit quite right, Click here to see our Fit Guaranteed Program.

Warranties

We will stand behind all products we sell with regards to manufacturing defects in workmanship and material. Most products are limited to the manufacturer's warranty. However, we will do everything in our power to take care of the problem.

Have questions?
Details
Ready to go tear it up in the sand? Take your tunes along for the ride! From the makers of Cycle Sounds, the Amplified 2" Speaker System has been engineered to hold up to the high vibration of the powersport environment. This new ATV/UTV Speaker System will take anything you throw at it (water, mud, snow, sand, dirt). Imagine jamming out while you're burning up the track, jumping sand dunes, maybe you're running the cattle in or just cruising around. However you ride, the Cycle Sounds Amplified 2" Speaker System is a must for your ATV/UTV. The Amplified Speaker System includes a pair of custom-made low-profile 2" bullet speakers, a high powered micro amplifier with a 3.5mm jack and universal mount, MP3 mount, speaker mounts, and all necessary connectors and wires. Just plug in your MP3 player and start enjoying your tunes while you ride.
Two 2" bullet-style water resistant speakers.
High powered mini amplifier with 3.5mm jack.
Universal mount, MP3 mount, speaker mount, and all necessary connectors and wires to complete installation.
Compatible with most MP3 players, iPods, satellite radios, navigation systems, iPhones, radar detectors etc.
1-year manufacturer warranty.