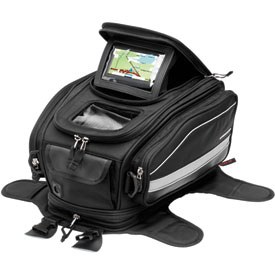 View Larger
Multiple Views

Firstgear Laguna GPS Tank Bag with Backpack Black
Part# 1441510001
"Customer service is priority #1 at Rocky Mountain ATV/MC. We value our customers and strive to be the best shopping experience- when you buy from us, you are buying lifetime service."

-Dan Thomas, CEO and Founder

Returns

We take pride in offering no hassle returns. In the event of a return, please call, email or chat with us to receive a solution to the problem. For apparel that doesn't fit quite right, Click here to see our Fit Guaranteed Program.

Warranties

We will stand behind all products we sell with regards to manufacturing defects in workmanship and material. Most products are limited to the manufacturer's warranty. However, we will do everything in our power to take care of the problem.

Have questions?
Details
GPS pocket is 6" x 4.25" to fit a wide range of devices.
Expandable, GPS Tank Bag with backpack capability.
Positions your GPS on any bike right in front of you and collapses to hide it when not in use.
Second transparent pocket on top of the bag for MP3 and cell phones.
Grommets in each device pocket and loops inside bag route cables out of the way.
Unzips from base to convert to a backpack; base becomes a road-map case.
2 large pockets on the sides and a small change/item pocket at the rear.
Vertically expandable by 3 inches.
Crafted from ultra durable 1680D nylon, coated with PVC and UV protection.
Light grey interior to aid in finding items in dim light.
Concealed, attached, transparent, waterproof cover in a zippered pocket on the bottom front.
Reflective piping to increase nighttime side visibility.
Attaches to bike with straps, magnets or suction cups.
Bottom of base unit and mounts constructed from non-abrasive non-slip material.
Reinforced sidewalls for stiffness.
Ergonomic carrying handle.
Limited lifetime warranty.
Compressed: 13" L x 15" W x 10" H.
Expanded: 13" L x 15" W x 12" H.