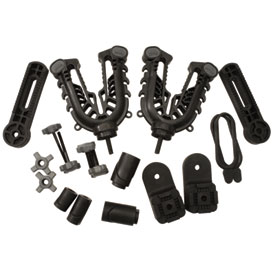 ATV TEK Wedgelock FlexGrip Pro Single
Part# 1366370001
"Customer service is priority #1 at Rocky Mountain ATV/MC. We value our customers and strive to be the best shopping experience- when you buy from us, you are buying lifetime service."

-Dan Thomas, CEO and Founder

Returns

We take pride in offering no hassle returns. In the event of a return, please call, email or chat with us to receive a solution to the problem. For apparel that doesn't fit quite right, Click here to see our Fit Guaranteed Program.

Warranties

We will stand behind all products we sell with regards to manufacturing defects in workmanship and material. Most products are limited to the manufacturer's warranty. However, we will do everything in our power to take care of the problem.

Have questions?
Details
Special Notes:
*Polaris® Lock And Ride® Compatible - Both wedges for Polaris® ATV's and UTV's included.
If hunting to you could mean using a shotgun, rifle, bow or muzzleloader the ATV TEK Wedgelock FlexGrip Pro is the rack you need! It features 15% larger forks for extended carrying capabilities, 360 degrees of rotation and an amazing 16 inches of width adjustment for the perfect fit every time. All rack adjustments can be made in the field without tools. The forks feature Variable Fit Technology that adapts to provide a custom fit for guns, guns in a soft case and bows. The specialized Bow Limb Slot keeps bows stable and is compatible with modern parallel limb designs. Air TEK suspension isolates shock and vibration to protect your gear while on the trails. The rock solid low-profile mounting bases adjust to provide a custom fit on tubular or composite racks.
Polaris® Lock And Ride® Compatible - Both wedges for Polaris® ATV's and UTV's included.
Perfect fit your bow in the "Bow Limb Slot", your rifle in the "rifle slot", your soft gun case in the "gun case slot" or anything else you want to carry!
Provides an additional eight inches of horizontal adjustment once the rack is mounted to the ATV giving the user a perfect fit, every time!
Wedgelock system locks FlexGrip racks quickly, easily and without the use of tools.
Shock-Tek suspension isolates recoil and vibration protects the users gear while on the trail.