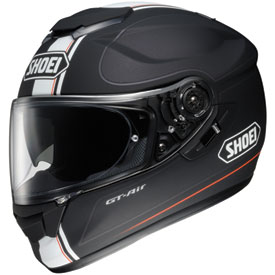 View Larger
Multiple Views

Shoei GT-Air Wanderer Motorcycle Helmet

"Customer service is priority #1 at Rocky Mountain ATV/MC. We value our customers and strive to be the best shopping experience- when you buy from us, you are buying lifetime service."

-Dan Thomas, CEO and Founder

Returns

We take pride in offering no hassle returns. In the event of a return, please call, email or chat with us to receive a solution to the problem. For apparel that doesn't fit quite right, Click here to see our Fit Guaranteed Program.

Warranties

We will stand behind all products we sell with regards to manufacturing defects in workmanship and material. Most products are limited to the manufacturer's warranty. However, we will do everything in our power to take care of the problem.

Have questions?
Details
Few things in life can match the unbridled thrill of mounting your speed and spending the day exploring your surroundings while Mother Nature's elements rush by. And though the unknown is often a welcomed part of the adventure, Shoei's all-new GT-Air Motorcycle Helmet makes it easier to adapt to the ever-changing conditions that lie ahead. Features like the convenient flip-down internal sun shield, free-flowing yet easily adjustable ventilation system, superior aerodynamics, and Pinlock Anti-Fog System ensure greater comfort and thus more time in the saddle than ever before. So what are you waiting for? Answer the call of the open road in Shoei's first internal sun shield-equipped full-face motorcycle helmet – the progressively stylish GT-Air Motorcycle Helmet.
Aerodynamic shell design.
Multi-piece EPS liner enhances impact absorption and ventilation.
Molded air spoiler reduces drag and lift, as well as diminishes pressure on the rider's neck while riding at speed.
Built in QSV-1 sun shield gives riders instant relief from sun glare in one quick motion.
Visor meets ANSI Z80.3-2010 standard for non-prescription eyeglasses.
Large and easy to reach switch activates the 3D injection-molded inner sun shield.
Distortion-free shield blocks 99% of harmful UV rays.
Forehead area of outer shell is raised slightly to accommodate the internal sun shield, helping allow for the integrity of the helmet's inner EPS liner to remain intact.
Upper air intake vent is positioned to maximize air volume into the helmet interior.
Large upper intake vent positioned to maximize performance behind wind screens.
Lower air intake/defroster vent reduces shield fogging and increases ventilation.
The rear/neck vents allow for effective air exhaust.
Breath guard and chin curtain included.
Advanced Integrated Matrix (AIM) – High performance fiberglass and organic fibers are combined to create a shell structure that is ultra-lightweight, rigid and resilient.
3-D Max-Dry center pad and multi-layered, polyurethane foam cheek pads (are removable and/or replaceable).
Chin curtain prevents wind entry and reduces noise.
Eyeglass compatible interior.
Emergency Quick-Release System – allows emergency medical personnel to easily remove the cheek pads.
Standard chin-strap clip, neatly secures chin strap.
CNS-1, three-dimensionally curved shield is both wider and taller than the CX-1V it replaces.
Includes new redesigned Pinlock Anti-Fog Lens for more coverage of the CNS-1 shield.
Dual-Ridge window bead increases contact with the shield to reduce wind noise.
Scratch-resistant shield coating.
99.9% protection from harmful UV A&B rays.
DOT certified.
For proper fit and size measure the circumference of your head 1" above your eyebrows and around the largest portion of the back of your head.