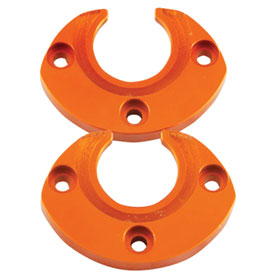 Nihilo Concepts Crank Stuffers
Fits: 2009 KTM 65 SX
Part# 1475740001
"Customer service is priority #1 at Rocky Mountain ATV/MC. We value our customers and strive to be the best shopping experience- when you buy from us, you are buying lifetime service."

-Dan Thomas, CEO and Founder

Returns

We take pride in offering no hassle returns. In the event of a return, please call, email or chat with us to receive a solution to the problem. For apparel that doesn't fit quite right, Click here to see our Fit Guaranteed Program.

Warranties

We will stand behind all products we sell with regards to manufacturing defects in workmanship and material. Most products are limited to the manufacturer's warranty. However, we will do everything in our power to take care of the problem.

Have questions?
Details
Finally the perfect fix for all KTM owners that have burnt out their crank and are looking for a less expensive way to get back on the track while at the same time improving performance. As you know most of the time when the crank goes bad you will need to buy a complete assembly because the heat has melted the plastic stuffers and left your crank halves unusable. Nihilo Concepts developed the ultimate crank modification and repair. Nihilo Concepts has precisely machined new crank stuffers to the perfect shape and weight to maximize the crank shaft performance. The new design brings the stock crank closer to a perfectly balanced system. The stock plastic stuffers are too light and melt when the crank heats up leaving your old crank components useless. Machined from 6061 Billet aluminum and shaped to enhance the counter weight of the crank assembly the Nihilo Stuffers are both functional and money saving. Next time you need a new crank shaft or just want to improve your motors performance pick up a set of Nihilo Concepts Crank Stuffers.
Made from 6061 Billet aluminum will not melt like the stock components.
Perfect weight in the right places to improve crank performance and bring the system closer to perfect balance.
Save over money when compared to buying a new crank while improving performance.
Designed by Nihilo Concepts the leaders in Motocross Performance.