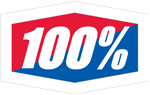 When Drew Lien was asked, "What does it take to win?" he had one simple answer: "You've got to give 100%." Lien's answer and outlook on life has always been 100% effort, 100% dedication, and 100% everything else. That's what led him to start his gear and apparel brand named – you guessed it – 100% in 1982.
In the early '80s, the moto industry was booming, and riders were hungry for exciting and innovative brands. It was the right place and right time for 100%. They aligned with influential riders like David Bailey, laying down sturdy roots in the growing and expanding industry. With their motto, "How much effort do you give?" 100% made their intentions and direction clear – they'll give 100% effort for the athletes that do, too.
Today, 100% is still just as driven, motivated, and passionate. They've used the perfect blend of proprietary tech, premium materials, and expert craftsmanship to create innovative products like the Armega goggles, and don't show any signs of slowing down. With goggles, gloves, helmets, riding socks, and extensive line of casual wear and accessories, 100% has something for everyone. Day in and day own, 100% embodies the spirit of racing, and pays homage to the dedicated riders and racers that built the sport.
Latest 100% Reviews – You could win up to
$500

for reviewing products!