Question: How long will delivery take?
Standard Service
Please note: these estimates are subject to change depending on order volume.

Please refer to the Estimated Delivery Date panel

during checking out:

Utah 1 Business day ‡ .

Arizona, California, Colorado, Idaho, Montana, Nevada, Oregon, Washington and Wyoming 2 business days ‡ .

Kansas, Missouri, Nebraska, New Mexico, North Dakota, Oklahoma, and South Dakota 3 business days ‡ .

Alabama, Arkansas, Florida, Georgia, Illinois, Indiana, Iowa, Kentucky, Louisiana, Michigan, Minnesota, Mississippi, North Carolina, Ohio, South Carolina, Tennessee, Texas and Wisconsin 4 business days ‡ .

Alaska, Connecticut, Delaware, Hawaii, Maine, Maryland, Massachusetts, New Hampshire, New Jersey, New York, Pennsylvania, Rhode Island, Vermont, Virginia, and West Virginia 5 Business days ‡ .

Puerto Rico 7 Business days ‡ .

Shipping times are estimates and may vary depending on exact address.

Packages are only picked up on business days ‡ .

* Delivery of Air and International packages only.

† Orders placed after 5:00 pm MT will NOT be shipped out until the following day.

Shipping charges for packages delayed by "Acts of God" will not be refunded.

The day the order is placed is not considered a shipping day.

‡ "Business day" means Monday through Friday except the following holidays: New Year's Eve * , New Year's Day, Thanksgiving Day, Day after Thanksgiving Day * , Independence Day, Christmas Day, Labor Day, Memorial Day.

To ensure the lowest shipping costs as well as the fastest delivery, we contract with multiple shipping carriers. The shipping carrier for your order will be selected at the time the package(s) are shipped. You will be notified by email when your order ships. You're welcome to view the tracking information and shipping carrier for your order by visiting the order status / package tracking page.
Question: Why are there no air shipping methods?
There are certain products, such as chemicals, which cannot be shipped by air. When an order contains such products no air shipping methods are displayed. Chemicals include but are not limited to batteries, oils, cleaners, lubricants, grip glue and tire sealant, etc.
Question: Why am I being charged a disposal fee on my order?
The state of Utah and the state of Kentucky requires that a disposal fee be charged on all tires and some oils sold. This fee is only charged on orders being shipped to Utah and Kentucky addresses.
Question: Can I have items delivered to an international address?
We currently accept orders to Australia, Austria, Belgium, Bulgaria, Canada, Cyprus, Czech Republic, Denmark, Estonia, Finland, France, Germany, Greece, Holland, Hungary, Italy, Latvia, Lithuania, Luxembourg, Malta, Netherlands, New Zealand, Poland, Portugal, Republic of Ireland, Romania, Slovakia, Slovenia, Spain, Sweden and United Kingdom (Great Britain) on our website. To place an order to any other international address please contact us to place your order.
Question: I ordered on the phone, can I access my account from the website?
Whether you ordered by Phone, Mail or from our website without creating an account you can access your account on our website. Go to My Account and click on ordered from us before but don't have a password . Enter your first name, last name, and email address exactly as you gave us while placing your order. A temporary password will be emailed to your email address.
Question: What does "email and name entered is not valid" mean?
The name on your account may be different than the way you entered it on this page. Make sure you entered it exactly as you did when you placed orders. If you used your full name you need to type that in or if you used a nick name type that in. If you still have problems please email us at [email protected] with your name, mailing address and email address. Or call us at 1 800 336-5437. Passwords are not available over the phone but emailed to the address on the account.
Question: Why are my previous orders not showing on my account?
If you created a new account your existing orders will not be attached to it. Please email us at [email protected] with your name, mailing address and email address. Or call us at 1 800 336-5437. We will be happy to combine all orders into one account.
Question: Why can't I log in using the email address and password I used last time?
If you've forgotten your password, you can reset it by using the Forgot your password page.
If you still cannot log in, please feel free to contact us so we can assist you. You can reach us via live chat, by email at [email protected] , or by phone 1 800 336-5437.
Question: Why did I receive an email saying "We have no password for this account"?
Question: Do tire packages come with 2 tires and 2 wheels?
Yes! All tire packages come with 2 wheels and 2 tires. Tires are mounted on wheels and seated. You may want to double check tire pressure before running due to elevation & climate.
Question: When will an out of stock product be in stock?
The expected in stock date on the product's info page is when we expect to receive that product but is subject to change without notice by the manufacturer or by other unforseen delays.
Question: When will orders that contain out of stock items ship?
Orders shipping to US addresses: In-stock items are shipped immediately. Out of stock items will be shipped in a separate shipment when they are all available.
Orders shipping to International addresses: Order is held until all items are in stock, and will ship together.
Question: How do I thread the webbing through my nerf bars?
Start with the top notch and go down through and out the bottom notch, then back in the next to bottom notch and out of the next to top notch. There are many different ways to thread nerf bar webbing but we have found this method to be the best.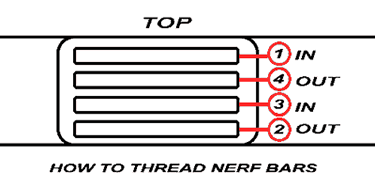 Question: How do I install my Pro-Design ATV kill switch?
Attach the switch to the handle bar. Connect the short wire (ground) to metal anywhere on the machine to ground it. Take the long wire and connect it to the positive wire from the stator (usually found on the left or shift side of the machine).
Question: How do I install my "Cascade" chain slider?
Installing a "Cascade" chain slider requires removal of the swing arm bolt and stock chain slider and may also require chain removal. You will need to drop the swing arm down and slide the large hole of the chain slider over the swing arm and make sure the pin is on top of the arm.
Question: Are my tires & wheels mounted correctly?
When tires are sitting side by side with the tread pattern running in the same direction, both valve stems should be to the outside. Wheels correctly mounted to the machine will always have the valve stem to the outside.
AIR PRESSURE: We recommend running 5 pounds of pressure for all conditions.
Question: How do I tell the offset & size of my wheels?
To determine the diameter of the wheel measure the width of the bead (not the outer rim). From the weld measure to the center of the tire bead on both sides. Add these numbers to find the total. The outer measurement will be the one with the valve stem.
Note: If the rim has a tire on it, usually the tire will have the rim diameter imprinted on it, (8", 9", 10"...) You can also measure the rim from inside using the diagram below and getting the measurements as close as possible.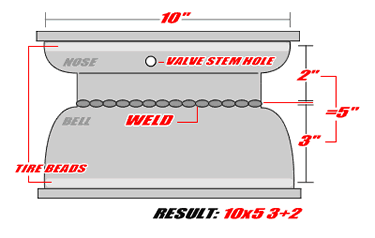 Question: Should there be a dent in my exhaust pipe?
More times than not it's a indent made by the manufacturer to allow room for other engine parts. Usually if it's a smooth indent and not a small scratched dent it is suppose to be there. If you're still not sure you might want to carefully install the pipe and see how it fits with all the other engine components.
Question: Was my battery supposed to come with acid?
When you buy a standard Yuasa battery, it does not come with acid due to shipping restrictions. Most auto parts stores can fill it for a minimal charge.
The " No Maintenance " line comes with the acid in a separate container which you'll need to pour into the battery. See them on our site: ( Tusk ) ( Yuasa ) ( All Brands )
Question: My catalog lists a different price than that shown on the internet, which is correct?
We do our best to keep prices listed in our catalogs available until the next catalog is released. However, due to circumstances beyond our control, we reserve the right to change prices due to increased manufacturing costs or mismarked items. The price shown on our website always reflects the correct price of an item.
Question: Why are there no shipping methods?
There are certain products such as chemicals which cannot be shipped to Hawaii, Alaska, Puerto Rico, or Canada. When an order contains such products, no shipping methods are displayed. Chemicals include, but are not limited to, batteries, oil, cleaners, lubricants, grip glue, tire sealant, etc.