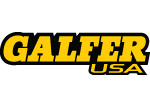 Galfer's roots lie in the same product it is still known for today: brake pads. Began in 1946 as a brake pad supplier in Spain, Galfer has grown into an international powerhouse for quality powersport braking parts and accessories. Their primary product line includes brake pads, brake rotors, brake lines and cables. Galfer is used by most of the top racers. Because of Galfer's consistent and demanding high quality, they are truly the racer's choice in brake pads, rotors and lines. Every Galfer product is designed with both precision and performance in mind. Your brakes will feel grippy, and you will feel in control of your riding experience.
Latest Galfer Reviews – You could win up to
$500

for reviewing products!