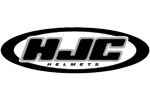 Since 1971, HJC has been producing some of the best helmets around. Their motorcycle helmets are tested vigorously in both laboratory testing and real life testing to ensure quality and performance and include industry standard ratings on their products. HJC creates helmets for all different riding styles and rider levels. Being a multi-national company, they've worked hard to create great designs and have worked hard to fit the needs of different motorcyclists. If you're looking for a great motorcycle helmet, that won't break the bank, look no further than HJC helmets.
Latest HJC Reviews – You could win up to
$500

for reviewing products!