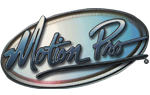 In 1984, experienced rider and racer Chris Carter established the motorcycle tool and accessory company Motion Pro. As an ISDT gold medal winner, longtime rider, and prolific innovator, Carter had the know-how necessary to make his company a success. His goal was simple: create user-friendly, low maintenance, long lasting, and affordable tools for the most skilled racer down to the novice mechanic. Carter believed in motorcycling distilled to the basics, and that's how he went about designing and producing his tools.
Today, Motion Pro is still operating under that same goal. Their tools, cables, and other parts and accessories are all high-quality, high-touch, and highly sought after. Their no-frills design and enduring construction have earned them endorsements worldwide and likely will for years to come.
Shop a wide range of Motion Pro tools like the Motion Pro Fork Seal Bullet, Motion Pro Bead Buddy, and more, along with levers, cables, and other accessories right here at RMATVMC.com.

Latest Motion Pro Reviews – You could win up to
$500

for reviewing products!