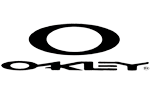 In 1975, James Jannard and his one-man company, Oakley, traveled around California motocross tracks to sell MX grips. As a rider himself, Jannard already had a unique perspective into the industry, but being at the track every weekend showed him even more of what the industry needed – and it wasn't grips. Jannard soon started developing and constructing his own MX goggles, ski goggles, and then sunglasses, and found his niche in eyewear. After a pro-bicycle racer sported a set of Oakleys, the rest was history – Oakley hit it big and continues to produce the same high-quality, high-fashion glasses and goggles to this day.
Now a part of the Luxottica family, the world's largest eyewear manufacturer and retailer, Oakley has earned a reputation for industry-leading innovation and technology. Glare-free vision with polarized lenses is the norm for Oakley products with their PRIZM™ Lens technology and, as the holders of more than 805 patents, the best is truly yet to come.
With MX goggles, sunglasses, shirts, sweatshirts, backpacks, and more, you can get geared up with Oakley's best products, right here on our website.
Latest Oakley Reviews – You could win up to
$500

for reviewing products!