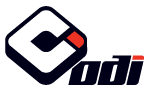 ODI's slogan, "The world leader in grip technology" is not one that's taken lightly. For over 25 years, ODI has made it their mission to provide the best products on the market. Their laser focus on grips and handlebars shows their commitment to offering the best there is.
Today, ODI still operates where it was founded – the United States. They believe that their success comes not from low production costs and impersonalized labor, but from enduring commitment and maintaining long-term relationships with the suppliers and riders that helped them take off in the first place. Everything for ODI happens close to home, and that's the way they like it. With an involved, personal, and thorough look at every product from development to shipping, ODI continues to live up to their slogan and then some.
As innovators of the Lock-On Grip system, ODI has developed popular grips like the ODI V2 Emig MX Lock-On Grips, the ODI V2 Hald Waffle MX Lock-On Grips, the ODI V2 Rogue MX Lock-On Grips, and more, all boasting high, slip-free performance. We proudly stock these grips, along with several handlebars, handlebar controls, and other accessories.
Latest Odi Reviews – You could win up to
$500

for reviewing products!