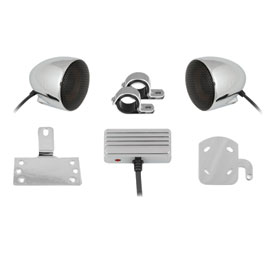 View Larger
Multiple Views
Cycle Sounds Series 3 Universal 3" Sound System 200w - Metric Cruisers
"Customer service is priority #1 at Rocky Mountain ATV/MC. We value our customers and strive to be the best shopping experience- when you buy from us, you are buying lifetime service."

-Dan Thomas, CEO and Founder

Returns

We take pride in offering no hassle returns. In the event of a return, please call, email or chat with us to receive a solution to the problem. For apparel that doesn't fit quite right, Click here to see our Fit Guaranteed Program.

Warranties

We will stand behind all products we sell with regards to manufacturing defects in workmanship and material. Most products are limited to the manufacturer's warranty. However, we will do everything in our power to take care of the problem.

Have questions?
Cycle Sounds Series 3 Universal 3" Sound System includes a pair of 3" custom made bullet speakers, a high-powered micro amplifier with wiring harness and mount, handlebar MP3 mount, speaker mounts and all necessary connectors and wires. The Cycle Sounds Series 3 Universal 3" Motorcycle Sound System was designed with a multiple shim mounting system that is low profile and easily attaches to 7/8", 1", and 1 1/4" bars without the use of extra mounting hardware. All of Cycle Sounds' motorcycle sound systems are ASTM tested for UV stability, water and salt spray resistance, thermal resistance, and vibration ensuring you the highest quality motorcycle audio in the industry. So, no more compromising style for sound, the Series 3 Universal 3" Sound System blends perfectly into any machine and puts out ear thrilling sound. Now motorcycle riders can simply dock their MP3 player or satellite radio receiver on their bike and bring their favorite soundtrack along for the ride.
Sound system for all Metric Cruiser motorcycles.
Premium sound, exclusive design, and professionally tested.
The 3" speaker sound system is recommended for those riding without a windshield, has loud exhausts, and rides at higher speeds.
200-watts speaker handling with high-powered micro amplifier.
Extended bass response and increased dynamic range.
Low profile mounting system built in.
Waterproof motorcycle speakers and amplifier.
Specially designed to handle high vibration environments.
Simply connect your music source to the 3.5mm jack.
Works with: iPod, MP3, satellite radio or any device that uses a 3.5mm earphone jack.
1-year manufacture warranty.