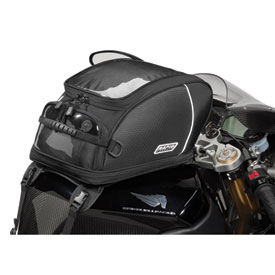 View Larger
Multiple Views

Rapid Transit Commuter Expandable Bag Black
Part# 1483920001
"Customer service is priority #1 at Rocky Mountain ATV/MC. We value our customers and strive to be the best shopping experience- when you buy from us, you are buying lifetime service."

-Dan Thomas, CEO and Founder

Returns

We take pride in offering no hassle returns. In the event of a return, please call, email or chat with us to receive a solution to the problem. For apparel that doesn't fit quite right, Click here to see our Fit Guaranteed Program.

Warranties

We will stand behind all products we sell with regards to manufacturing defects in workmanship and material. Most products are limited to the manufacturer's warranty. However, we will do everything in our power to take care of the problem.

Have questions?
Details
With the Rapid Transit Commuter Expandable Bag you can choose to use it as a tank bag or a tail bag using the optional Commuter Mounting kits available. Strap Mount, Magnetic (Tank) Mount, Hook Mount, Suction Cup (Tank) Mount – or use a combination of mounting kits for a custom fit.
Larger sized bag comfortably fits on most tanks.
Can be mounted as a tank bag using the strap mount kit provided – or choose an optional mounting kit to mount it as a tail bag (Hook Mount) or use a combination of 2 mounts for a custom fit (Magnetic Mount, Suction Cup Mount).
Made from top quality Tri-Max® ballistic nylon with Fibertech accents.
Wind and water resistant.
Bag maintains shape, has a lined interior.
Integrated tank protector with scratch guard rubberized contact fabric.
Map window, Key Clip and 3 organizer pockets under lid.
Large clear pocket for smart phone and GPS storage with a built-in cable port access.
Rain cover included.
Backpack convertible.
Reflective stripe and logos.
Main compartment measures: 14" L x 10" W x 7" H Standard, 14" L x 10" W x 9" H Expanded, Holds 16.06 Liters 20.64 Liters expanded.