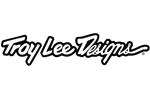 Troy Lee was born into moto. Coming from a family of pro riders and racers, Lee gained an appreciation for the sport and even planned on being a professional racer himself one day. He was good at riding, too, but he was better at something else. What started as a hobby of painting helmets for friends and family quickly grew into a full-time business for Troy Lee, and he set aside his dreams of going pro to paint and make gear for the pros instead. 
Now, over 30 years later, Troy Lee Designs is an innovative and thriving company, producing some of the most eye-catching, comfortable, and conscientious gear on the market. The company is focused on design and technology – Troy Lee Designs knows their riders and customers put it on the line every day in their gear, and that's why they work so hard to create products that are intuitive, intelligent, and protective. With out-of-the-box thinking, proprietary tech, and a proactive R&D process, TLD is setting industry standards for safety and performance with every product.
Shop our collection of Troy Lee Designs products for helmets, jerseys, pants, gear bags, and more, along with an extensive casual line.
Latest Troy Lee Reviews – You could win up to
$500

for reviewing products!