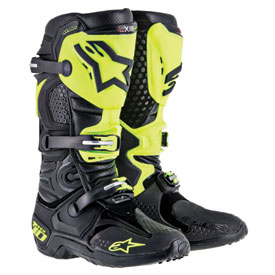 View Larger
Multiple Views
Videos
Alpinestars RV2 Tech 10 Boots

"Customer service is priority #1 at Rocky Mountain ATV/MC. We value our customers and strive to be the best shopping experience- when you buy from us, you are buying lifetime service."

-Dan Thomas, CEO and Founder

Returns

We take pride in offering no hassle returns. In the event of a return, please call, email or chat with us to receive a solution to the problem. For apparel that doesn't fit quite right, Click here to see our Fit Guaranteed Program.

Warranties

We will stand behind all products we sell with regards to manufacturing defects in workmanship and material. Most products are limited to the manufacturer's warranty. However, we will do everything in our power to take care of the problem.

Have questions?
Alpinestars is known as one of the most popular motocross apparel distributors, testing and manufacturing their product line to be safe, comfortable and reliable for all types of riders. With that comes the Alpinestars Tech 10 Motocross Boots. The Alpinestars Tech 10 Motocross Boots have a revised ergonomic design. The revolutionary development concepts have produced the most streamlined balanced and protective motocross boot yet to hit the market.
Full-grain leather with lightweight microfiber and impact and abrasion resistant TPU shell.
Innovative, evolutionary TPU shin-plate construction for greater range of fitment features a reinforced Velcro closure for comfortable, highly customized closure.
Shin zone incorporates TPU blade system engineered to prevent frontal hyperextension and provides greater flex control.
Evolutionary design for lateral flex zone provides front and rear flexion support and helps prevents torsion.
Medial-facing panel constructed from TPU with rubber insert for maximum grip contact with bike and improved heat and abrasion resistance.
Contoured TPU calf protector plate offers impact resistance.
Innovative TPU rear blade system protects heel and features a rear hyperextension guard.
Extensive TPU protection on toes, foot, heel, ankle, calf and shin with extra hard compounds on the toe-box, heel and Achilles tendon.
New closure system includes polymer buckles plus aluminum frame with innovative self-aligning, quick release closures for customized secure fitment.
TPU lower shell is reinforced with metal shank and includes toe reinforcement for impact and abrasion resistance.
All the buckles are replaceable.
Soft microfiber gaiter helps seal out excessive water and dirt entry.
Poly fabric lining with 3D open cell foam incorporates anti-sliding suede reinforcement on heel area.
Exclusive dual compound sole is seamlessly integrated to the multi-density foot base structure with built-in support; the sole superior durability and grip.
Innovative biomechanical inner brace features torsion bars to control ankle and leg rotation, while allowing freedom of movement. *Wide fit torsion bar replacements are included.
Shock absorbing padding on the heel and ankles plus an ultra thin and flexible forefoot area for increased sensitivity and control.
Removable anatomic footbed.
The Tech 10 boot is CE certified.