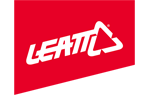 Few companies are as accomplished and qualified as Chris Leatt's Leatt. It all started in the early 2000s when Leatt and his son witnessed a fatal accident at their local motocross track. A general practitioner and racer himself, Leatt used his expertise and insight to innovate the safety product that got his company on the radar in 2004 – a neck brace. Leatt has been around ever since, setting new standards of protection for the industry.
Today, Leatt is still revered for their neck braces, but has expanded their scope to include more riding gear like pants, jerseys, helmets, gloves, goggles, and more, along with accessories like gear bags and riding backpacks.
Safety is still a top priority for the company, too. In 2008, the company launched their revolutionary Leatt Lab, a state-of-the-art testing center complete with unprecedented prototyping equipment and an educated and dedicated R&D team. Every product that carries the Leatt name goes through that lab, ensuring that their safety gear and other riding gear is prepared for every situation on the track.
Leatt isn't taking any chances, so neither should you. For industry-leading protection and top-of-the-line quality, shop our collection of Leatt riding gear and accessories.
Latest Leatt Reviews – You could win up to
$500

for reviewing products!