Handlebars from Rocky Mountain ATV/MC
Few parts come in as many usable variations as dirt bike handlebars. You get to decide among multiple brands, colors, sizes, styles and bends. Most handlebars are universal (though sometimes only with applicable sizing adapters), so your options are pretty wide open regardless of your bike.
If you're looking to upgrade your handlebars for a different feel or look – or even if you need to replace them due to bending your previous bars – you'll find a great selection at Rocky Mountain ATV/MC. We carry dozens of different bends for both 7/8" and 1 1/8" handlebars that come in several great colors to enhance your bike's existing look. We carry major brands like Renthal, ProTaper, Mika Metals, Tag, Fasst and many others.
You can browse our selection on this page, or you can utilize the filters on the left side of the page to narrow the selection down to meet your preferences. If you already know what you're after, dig in and get yourself new handlebars. If you need a bit of guidance, feel free to check out our guide provided below.
Handlebar Diameter
Dirt bike handlebars come in two diameters: 7/8" and 1 1/8". The smaller size (7/8") is older and is sometimes considered the standard size. The larger size (1 1/8") was introduced in 1991, and handlebars in this size are often called "fat bars" or simply oversized bars. Fat bars measure 1 1/8" in the clamp area but taper to 7/8" at the handles so that they fit standard grips.
There are several advantages to using oversized bars. They tend to be stronger and are less likely to bend. Many of them don't use crossbars, which is a style that some riders prefer. However, unless the bike is built specifically for fat bars, they require sizing adapters. They're also more expensive than equivalent 7/8" bars.
Dirt Bike Handlebar Bends
There are three primary measurements for a handlebar:
Height: The vertical distance from the handlebar's center (clamp area) to the handle
Width: The distance from tip to tip (or handle to handle)
Pull Back: The horizontal distance from the handlebar's center (clamp area) to the handle when measured toward the rider – also called the sweep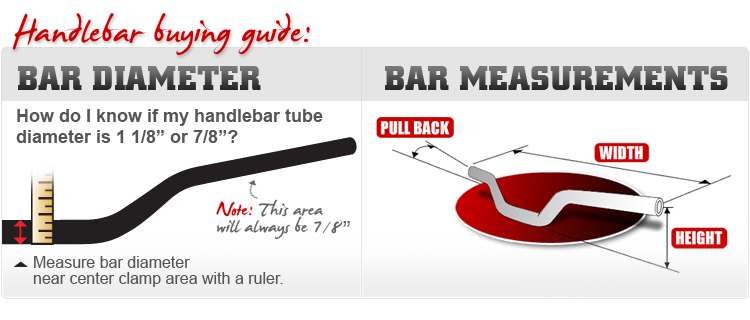 Handlebar brands name bends according to types of machines that often run them (e.g. Kawasaki, CR, ATV), famous riders who used them (e.g. Carmichael, Windham, Stewart), or riding style that makes good use of them (e.g. MX race, Woods). However, the bend that you choose is completely up to your preferences.
Picking the Right Bend for You
There are numerous methods of identifying a good bend for your personal tastes, and there is no correct way to choose. A simple method is to analyze what you feel would be more comfortable based on your existing handlebar bend.
Another method encourages you to do 20 pushups, sit on your bike with your eyes closed, and position your hands where you imagine the handlebars should go (both straight and in a turn).
The "right" bend for you is whatever feels most comfortable. However, you might want to note that if you sit down a lot (such as in more casual trail riding), you might gravitate toward a handlebar with plenty of pull back, while if you stand a lot (such as if you race motocross), you might want a straighter bar.
There are numerous different bends. Fortunately, we've made it easy to quickly scan the width, height and pull back of all the bends we carry in a single location – our handlebar measurements page.
Altering Sizes
Height
Height is one of the three primary measurements of a bar's bend. Choosing a bend isn't the only way to influence the height; you can also utilize risers. Getting the right height is particularly important if you're tall. Fortunately, many bends come in "high" versions that are specifically designed to accommodate taller riders.
Keep in mind that if you set your handlebars too high, they will be uncomfortable while sitting, but if they are too low, they can limit your range of motion.
Width
Some riders who race in the woods cut a small piece off each end of the handlebar to make it narrower. This makes it easier to avoid hitting trees. However, bars that are cut too far will not handle as well. In general, you should use handlebars that are as wide as your shoulder, and the manufactured size works fine.
Pull Back
When you clamp your handlebars, you can pull them toward you before tightening the clamps. While limited variation is fine, beware of excessive modification as it can position the handles awkwardly for your wrists.
Flexibility
Handlebars were traditionally made of steel. However, many modern handlebars utilize an aluminum alloy. Aluminum handlebars are just as strong as steel but offer significantly more flexibility.
Flexibility is important as it can make your ride more comfortable and even reduce arm pump. When shopping for a handlebar, be sure to pay attention to details in the product description that mention impact absorption and flexibility. Some handlebars – such as the Fasst Flexx – are specifically engineered to maximize flexibility.
If you bend your handlebars in a crash, replace them. Bent bars do not handle as well (or as predictably), creating an uncomfortable and possibly even dangerous riding condition. Avoid bending the bars back into their original shape as it compromises the structural integrity of the bars; they can more easily break. Instead, do the safe thing and replace them entirely.