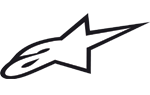 From the beginning, Alpinestars has had a reputation for quality, durability, and dependability. Founded by a leather craftsman with a perfectionist mindset, the brand has been outfitting and protecting top motorcycle racers for over half a century with unmatched precision.
That attention to detail and high standard of performance that made Alpinestars so revolutionary back then is still evident today. Fabrics, plastics, and finished products are still rigorously tested before being mass-produced. Race suits are still hand-cut. Quality inspections are completed on varying products before they leave the warehouse.
Continued tradition doesn't come at the cost of innovation, though. Alpinestars is an industry leader in safety, constantly refining products and viewing protection as an ever-evolving state of development. This mindset is how they've developed progressive products like the Tech-Air Airbag Vest, and is how they'll continue to redefine rider safety for years to come.
With gear available for every riding discipline, Alpinestars provides the versatility that modern riders need. Their ever-expanding collection includes pieces like the Supertech M10 Helmet, Tech 10 Boots, Bionic Neck Support, GP Leather Jacket, Andes Drystar Pants, and more, all with the same standard of protection, quality, and durability. Whatever you ride, wherever you ride, Alpinestars has something for you.
Latest Riding Gear Reviews – You could win up to
$500

for reviewing products!